In a groundbreaking move, the California Air Resources Board (CARB) unanimously adopted the Advanced Clean Fleets (ACF) rule on April 28, 2023, after a three-year development process. Billed by CARB as "the world's first mandate to end combustion truck sales," the Advanced Clean Fleets rule, which requires a phased-in transition toward zero-emission medium-and-heavy duty vehicles, will go into effect on January 1, 2024.
CARB developed the ACF regulation to complement the Advanced Clean Trucks (ACT) regulation, which helps ensure that zero-emission vehicles are brought to market. The proposed ACF regulation applies to fleets performing drayage operations, state, local, and federal government agencies, and high priority fleets. The regulation covers medium- and heavy-duty on-road vehicles with a gross vehicle weight rating greater than 8,500 pounds, off-road yard tractors, and light-duty mail and package delivery vehicles. Despite the ambitious goals of the ACF, exemptions and extensions are available as well as "end of useful life" provisions for existing vehicles. 
Why does the ACF focus on trucks?
Despite making up only 6% of California's vehicles, trucks are responsible for more than 35% of the nitrogen oxide emissions produced by the state's transportation sector, as well as a quarter of its on-road greenhouse gas emissions, according to CARB. These statistics make cleaning up truck emissions a priority for the state. 
What is CARB's goal with Advanced Clean Fleets?
According to CARB, the ACF regulation is part of a "comprehensive statewide strategy to reduce emissions from transportation to protect public health and meet climate goals including economy-wide carbon neutrality by 2045."
Protecting public health especially means protecting the health of communities living along transportation corridors and nearby ports. The new rule is expected to generate $26.6 billion in health savings from reduced asthma attacks, emergency room visits and respiratory illnesses, according to CARB. 
What is a "high priority" fleet under Advanced Clean Fleets?
CARB's definition of a high priority fleet is one that belongs to a company that has $50 million or more in revenue OR operates or controls 50 or more trucks over 8,500 pounds. Yard tractors and out-of-state vehicles count towards this total. 
At the beginning of the ACF implementation in January 2024, trucks newly added to the high- priority fleet must be ZEVs (zero-emission vehicles) or NZEVs (near-zero emission vehicles). By January of 2025, ICE (internal combustion engine) vehicles must be removed after their useful life has been exceeded. The ACF allows drayage and high priority and federal fleets to continue using their existing trucks until the earlier of 18 years or 800,000 miles or a minimum of 13 years if the truck has over 800,000 miles. This provision negates a sudden or immediate retirement of existing vehicles. 
Fleets that fall under the High Priority and Federal Fleets or the State and Local Government Fleets parts of ACF may choose to use the ZEV Milestones Option, shown in Table 1, to meet their ZEV targets.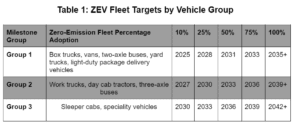 What is the 100% ZEV Sale Requirement?
The 100% ZEV sale requirement of the Advanced Clean Fleets rule states that starting in 2036, all Class 2b-8 vehicles sold in California must be ZEVs. This moves the deadline up four years from 2040. ZEV sales start in 2024.  
What is the drayage component of the ACF?
The regulation's drayage component stipulates that starting from 2035, just 11 years after the implementation of the ACF, only zero-emission trucks will be allowed to enter seaports and intermodal rail yards.
What if I need an exemption?
When adopting the Advanced Clean Fleets rule, CARB considered feasibility of adoption and made room for exemptions. CARB states that "The primary goal of the ACF regulation is to accelerate the market for zero-emission trucks, vans, and buses by requiring fleets that are well suited for electrification, to transition to ZEVs where feasible."
CARB has also articulated a variety of exemptions or extensions available including the vehicle delivery delay exemption, the ZEV purchase exemption, the construction delay extension, and the site electrification delay extension. 
How can I afford to be compliant with the ACF? 
For many fleets, the ACF represents a significant investment in new electric trucks. There are a variety of federal and regional grants and incentives for electrification, but these can prove to be very competitive. One incentive open to all electric fleets is the California Air Resources Board's Low Carbon Fuel Standard (LCFS). The LCFS pays quarterly incentives based on the amount of clean fuel, such as electricity, used by a fleet. Class 1-8 electric vehicles and other equipment are eligible for the LCFS in California. Revenue generated from the LCFS program can be put towards the purchase of new electric trucks or offsetting operating costs.
What are the key takeaways regarding the Advanced Clean Fleets rule? 
If a fleet owner receives California State-funded incentives for zero-emission vehicles starting January 1, 2024, and the program guidelines prohibit using such vehicles to meet the compliance requirements of section 2015(d), then those vehicles won't be considered compliant during the funding contract period.

The manufacturer sales mandate requires manufacturers to sell only zero-emission medium- and heavy-duty vehicles starting in 2036. 

The drayage fleets registration requires all drayage trucks entering seaports and intermodal railyards to be zero-emission by 2035.

The high priority and federal fleets and state and local government fleet targets require fleets to purchase only zero-emission vehicles from 2024 onwards. They must phase out all internal combustion engine vehicles by the end of their useful life as specified in the regulation.

The ACF regulation allows affected fleets to keep their existing combustion-powered vehicles for the full useful life, which ranges from 13-18 years  or 800,000 miles, depending on the vehicle.

The ZEV Milestones Option is an alternative option for fleets that fall under the High Priority and Federal Fleets or the State and Local Government Fleets parts of ACF. This option allows fleets to meet their ZEV targets using a phased-in percentage of zero-emission vehicles starting with the vehicle types that are most suitable for electrification.
The Advanced Clean Fleets rule falls in line with California's leadership on environmental preservation and climate change mitigation. There are extensions and exemptions built into the rule, but time is short and the time to act is now. Original equipment manufacturers (OEMs) will likely experience more demand than they are able to meet. However, the collective effort of Californians will make for a state with cleaner, more breathable air for all.